A Thousand Endless Tales – Dancing the Line of Flight
(Story Telling)
lisa schiess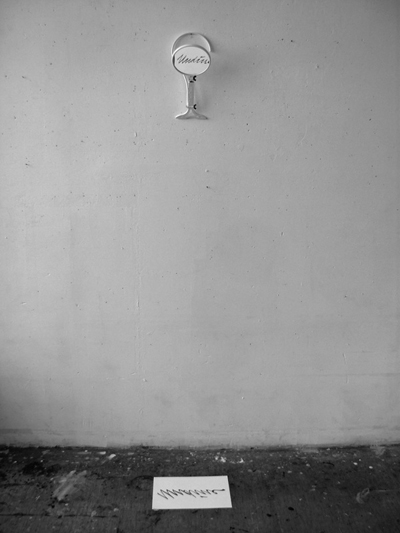 UNDINE (Installation) // 2009/2010
Objet trouvé (Spiegel/Kunststoff) / 33cm x 14,5cm x 1,2cm / verstellbar. Schriftzug in Spiegelschrift auf Papier (Filzstift/A4)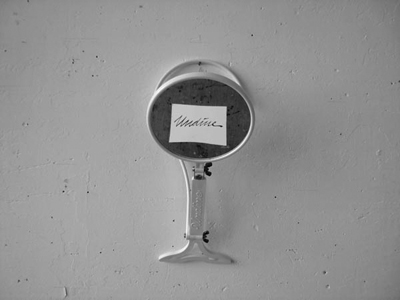 UNDINE (Installation) // 2009/2010
Objet trouvé (Spiegel/Kunststoff) / 33cm x 14,5cm x 1,2cm / verstellbar. Schriftzug in Spiegelschrift auf Papier (Filzstift/A4)
Lisa Schiess
Studied philosophy, education, art history and ethnology at the University of Zurich. Lives and works in Zurich, Switzerland.
Long study visits inLängere Indonesia, USA, Egypt and Berlin.
Various interdisciplinary projects, among others with composers lik Roland Dahinden, Christoph Gallio, Nahla Mattar (Egypt), Ali Osman (Sudan), Annette Schmucki, Khaled Shokry (Egypt) and Alfred Zimmerlin.
Cooperations with littérateurs like Peter Weber, Raphael Urweider, Nadine Olonetzky, Bruno Ronfard, Beat Wyss, Kristin T. Schnider, Daniel Kurjakovic, a.o.
Cooperations with artists like Eva Afuhs, Simon Beer, Felix Brunner, Teresa Chen, Jean Crotti, Dogan Firuzbay, Peter Z. Herzog, David A. Huber, Franziska Koch, Daniel Lorenzi, Jean-Luc Manz, Vittorio Santoro, Anina Schenker, Jill Scott, Kerim Seiler, Markus Weiss, a.o.