A Thousand Endless Tales – Dancing the Line of Flight
(Story Telling)
oreet ashery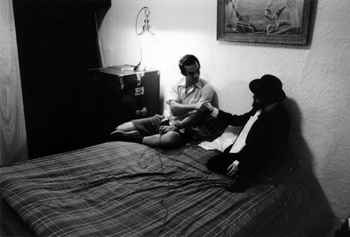 Say Cheese // 2001-2003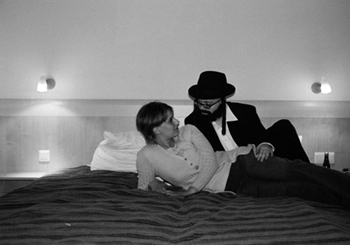 Say Cheese // 2001-2003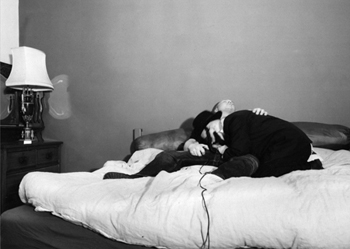 Say Cheese // 2001-2003
Say Cheese // 2001-2003
Say Cheese is an experimental process-based 'one at a time' live interaction between the artist's alter ego, Marcus Fisher, and participants. The interactions take place in bedrooms around the world - curator's own bedrooms, hotel bedrooms and constructed bedrooms within a gallery setting.
The power relationship in the interactions is fluid and complex, Marcus appears fairly passive to allow participants to act out their fantasies, still he is in control of the piece as the artist. If some of the interactions are to be viewed as potential theatrical or cinematic scripts, are they an equal collaboration? What states of 'self' or identity come into place in the interaction? Whilst Marcus is simulating a 'Jew' for some participants the experience of meeting Marcus is as good as meeting the 'real' thing. Is the artist's background and her relationships to Marcus creating something, which is as 'near to the real thing' as one might hope for under the circumstances? And what about the Jewish thing? For some participants Marcus represents 'the Jew' that which works as a cultural signifier, therefore any 'issues' be it guilt, perplexity, curiosity, or fetish they have with Judaism they can 'try out' with Marcus. Is the individual ethnic origin always also a signifier? Marcus has no character; he is a fiction without an history without a true mummy or a daddy. When met with a participant there is not much of 'him' that comes out, because there is no him. He has no obvious mannerism, voice or attitude, he refuses to act or 'be in character', he is only dressed up. Further more, his room which reflects his character is either completely indistinct or changes from venue to venue. There is no illusion. Yet there is. Our contemporary culture is well trained in reading simulacra and we don't need much. Marcus's 'lack of character' or 'personality' taps into a generalised, removed notion of what an orthodox Jew might be when no real contact takes place. He is just the guy next door.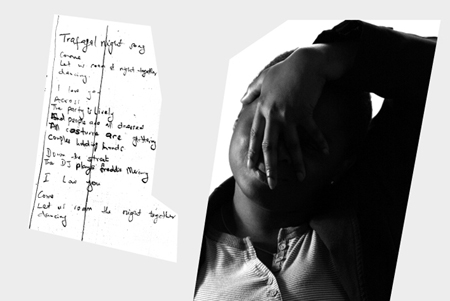 Staying: Dream, Bin, Soft Stud and Other Stories // 2010
"Why categorise another human as trash because they have different views on sexuality? Why look down your nose on another because of who they want to share their intimacy with? If I can see it, why can't you?" (Bin)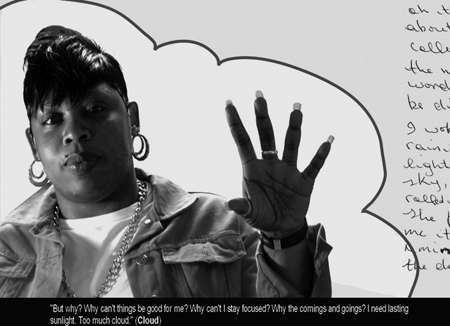 Staying: Dream, Bin, Soft Stud and Other Stories // 2010
"But why? Why can't things be good for me? Why can't I stay focused? Why the comings and goings? I need lasting sunlight. Too much cloud." (Cloud)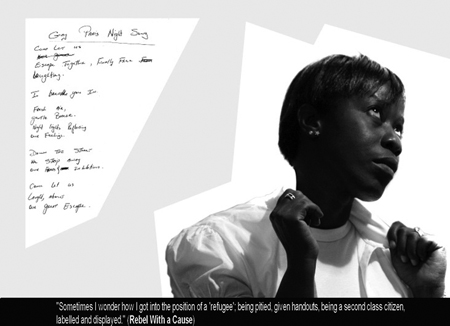 Staying: Dream, Bin, Soft Stud and Other Stories // 2010
"Sometimes I wonder how I got into the position of a 'refugee'; being pitied, given handouts, being a second class citizen, labelled and displayed." (Rebel With a Cause)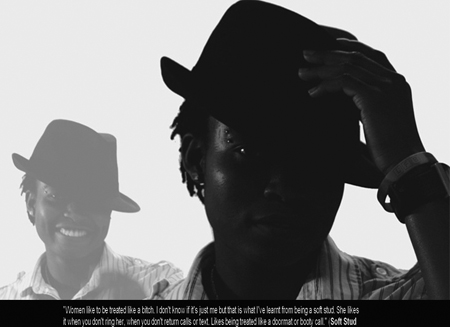 Staying: Dream, Bin, Soft Stud and Other Stories // 2010
"Women like to be treated like a bitch. I don't know if it's just me but that is what I've learnt from being a soft stud. She likes it when you don't ring her, when you don't return calls or text. Likes being treated like a doormat or booty call." (Soft Stud)
House: How is life treating you living in Brixton, compared with your home country in Africa?
Bin: I am not living yet.
H: What do you mean?
B: I am not living yet in Brixton, I am staying in Brixton.
H: What is stopping you from living?
B: I have to wait for the Home Office.

////////////////////////////////////////////////////////////////////////////////////////////////////////////////////////////
started on 20 January 2010
A character transforms her life stories into the rooms of a house; another becomes a bin; others become a dream, a soft stud, a super lover and a gun who transforms into a camera… The characters are part of Staying, a project by artist Oreet Ashery and twelve lesbian asylum seekers and refugees who fled Nigeria, Uganda, Angola, Gambia, Jamaica, Barbados and other countries after suffering traumatising discrimination against their sexual identity and orientation. The project addresses issues that are frequently concealed, ignored or invisible. Ashery has worked with discussions, monologues, interviews, handwriting, images, portraits, doodles and other material during a series of intimate and emotionally raw workshops with the women, to form Staying: Dream, Bin, Soft Stud and Other Stories. A deck of twelve tarot-style cards, featuring each of the women's characters, and a dynamic, moving and richly crafted booklet of essays have been developed to extend discussion beyond the project.
Staying: Dream, Bin, Soft Stud and Other Stories was inspired by the lengthy administrative procedures that require gay asylum seekers to prove their sexual identity and often, their new western gay lifestyle. Ashery worked with the women, developing fictional characters and alter egos that channelled their ideas, stories and traumas into different types of narratives. In contrast to legal demands for complete accuracy, accountability and clarity in their applications to stay, the creative processes in Staying: Dream, Bin, Soft Stud and Other Stories generated repetitions, slippages, gaps in memory, interpretations, group work and fictions in immersive, deeply revealing and often painful insights into the women's experiences. Presentations by established lesbian artists, performer Lois Weaver, poet Cherry Smyth and filmmaker Campbell X, alongside discussions, debates, arguments and reflections on character work and autobiographies informed and inspired the workshops.
<www.artangel.org.uk/projects/2010/staying>
Commissioned by Artangel

Oreet Ashery
Oreet Ashery is a Jerusalem born, London-based, interdisciplinary visual artist working across performance, photography, video, objects and writing. Ashery's performative practice engages with socio-political paradigms and tends to include participatory and delegated elements. Ashery frequently produces work as a male character. These characters have included an orthodox Jewish man, an Arab man, a black man, a Norwegian postman, a large farmer, a false messiah . Ashery is interested to expand the language of art in relation to other disciplines, and to further explore the relationships between various modes of production.
Ashery exhibits, performs, intervenes and screens her work extensively in an international context, this included Liverpool Biennial, Artrangel commission, ZKM, Germany, HKW, Berlin, Tate Modern, Brooklyn Museum, Akademie der Künste, Berlin, Swedish Academy of Art, Pompidou Centre, Paris, Arnolfini, Bristol, Freud Museum, London, Umjetnicki Paviljon, Zagreb, Musée d'art contemporain de Montréal, National Review of Live Art, Glasgow, Musée cantonal des Beaux-Arts, Lausanne, De Balie, Amsterdam, Kunstenbanken, Norway, OK Centre for Contemporary Art, Linz, Jewish Museum NY, San Francisco, Foxy Production Gallery, NY, Other Gallery, Shanghai, and Beijing and EDS Gallery in Mexico. Works and interventions in the public space have including curators' bedrooms in seven cities, men only religious celebration at the north of Israel, Qalandia checkpoint in Palestine, craft market in Delhi, Church of Scientology in London, and derelict fishermen's hut in Whitstable.
Ashery has published three books in 2009: The Novel of Nonel and Vovel (Charta) an expanded project with the Palestinian artist Larissa Sansour, including public events, exhibitions, performances and film programs; Dancing with Men: interactive performances, interactions and other artworks (Live Art Development Agency); and Staying: Dream, Bin, Soft Stud and Other Stories (Artangel), a participatory project with women seeking asylum in the UK due to the conditions surrounding their sexual orientation in their respective countries.
////////////////////////////////////////////////////////////////////////////////////////////////////////////////////////////
Ashery's work has been published and discussed in numerous exhibition catalogues, books, reviews, and academic and art publications in many languages. In English these have included: Bidoun; Art and Culture from the Middle East, Frieze, Art Monthly, Art Forum, Contemporary, Time Out, the Village Voice, Circa, Flash Art, Dazed & Confused, Map, Heeb, Sleezenation among others. And in books including Art Tomorrow, Art in the Age of Terrorism, Blasphemy and Biographies and Space.
In London Ashery has been presenting public talks about her works at the ICA, Whitechapel, Gallery, Tate Modern, Royal Academy, Goldsmith College, Chelsea College, to mention a few. Internationally, Ashery presented her work in the USA, Europe, Turkey, India, Israel, Palestine, Canada and China. Ashery is an AHRC fellow in the Drama Department at Queen Mary University, and has been engaged with educational work, mentoring, lecturing, panel presentations, teaching, and projects in the public sphere, and community contexts such as refugee centers, day centres, housing estates, prisons, to mention a few, for many years.