A Thousand Endless Tales – Dancing the Line of Flight
(Story Telling)
riikka tauriainen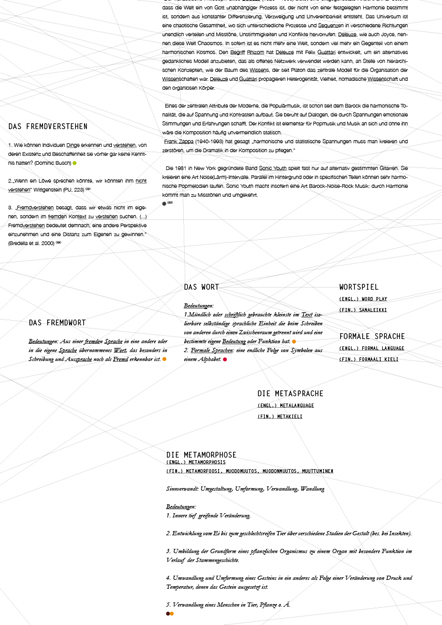 Die Irrelevanz die Dinge auf den Punkt zu bringen // 2010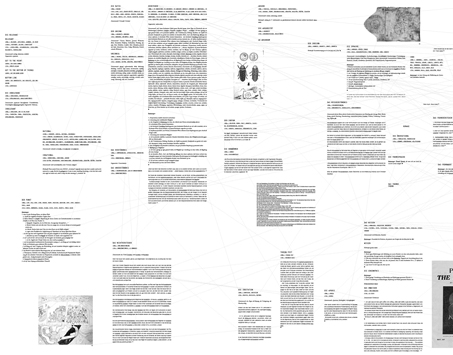 Die Irrelevanz die Dinge auf den Punkt zu bringen // 2010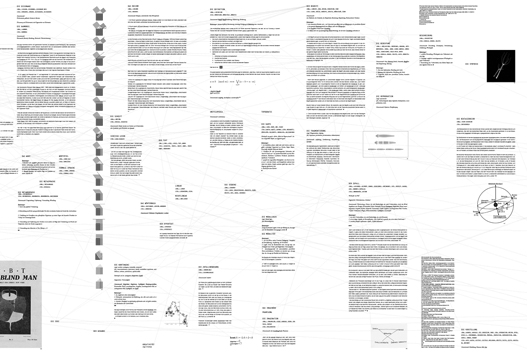 Die Irrelevanz die Dinge auf den Punkt zu bringen // 2010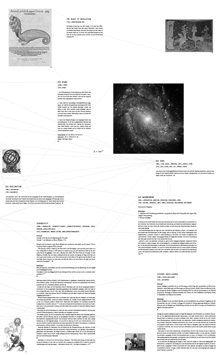 Die Irrelevanz die Dinge auf den Punkt zu bringen // 2010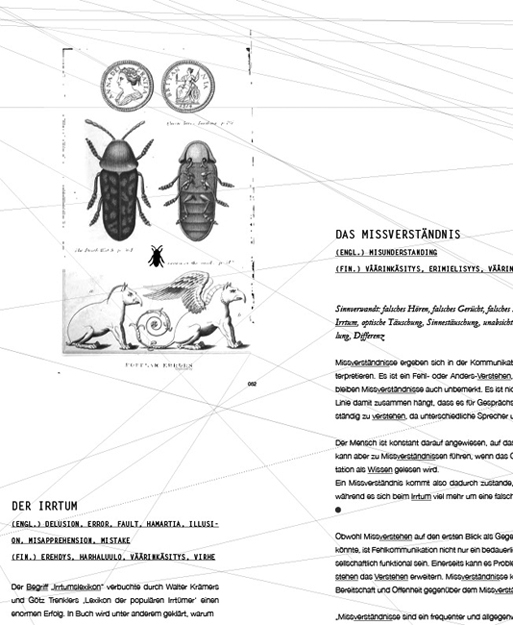 Die Irrelevanz die Dinge auf den Punkt zu bringen // 2010
Die Irrelevanz die Dinge auf den Punkt zu bringen (The irrelevance of putting things in a nutshell), 2010
Poster / Newspaper 100cm x 338cm
In her work "Die Irrelevanz die Dinge auf den Punkt zu bringen" Riikka deals with the networking of words and contents. Starting out from difficulties in understanding and misunderstandings in communication outside the German language she has explored the the resulting new layers of meaning. A mind-map was the result, a non-linear text in the form of an unfoldable giant poster. With this fragmentation of the information flow she mirrors incisively human thinking and opens an arc of suspense to topics like The Art of Research, image as text and text as image.
Identical apartments and other stories
2010, multichannel sound installation. Loop in sequences
Identical apartments and other stories is based on an anthology of lists. It is a multichannel sound installation, in which each loudspeaker describes abstracted categories in short phrases. The work has been developed during an Artist Residence in South Korea and is inspired by contemporary Korean fiction.
The impulse for the anthology has been the attempt to display the classification, definition, rules, patterns, and the formation of languages. The aim is to generate diversity by providing continuously new categories. The anthology is conceived as a growing collection of possible categories.
Riikka Tauriainen
*1979 in Oulu, Finland. Lives and works in Zurich
Riikka has been living in Zurich for three years, where she graduated from her Master studies. She grew up in Finland and has studied in Tallin in Estonia and in Berlin among other places. Her last exhibition took place in South Korea, as a result of her artist residency there. Riikka's focus is on the performative process everyday life and art, which she puts into motion by means of medium and situation. She deals with topics such as social norms and behaviors, routine, banality and language.