A Thousand Endless Tales – Dancing the Line of Flight
(Story Telling)
roee rosen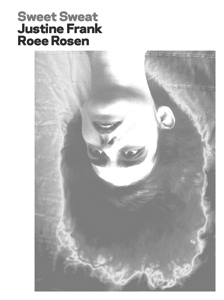 Justine Frank, Sweet Sweat // 2009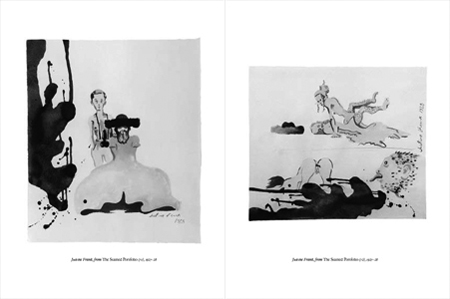 Justine Frank, from The Stained Portfolio, 1927–1928. Courtesy: Rosenfeld Gallery, Tel Aviv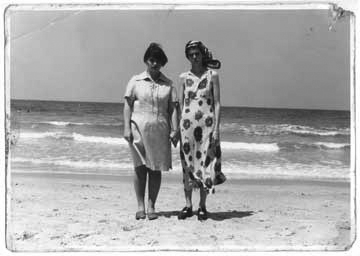 Justine Frank with Fanja Hissin.
Justine Frank, Sweet Sweat // 2009
Sweet Sweat is the title of Justine Frank's only book, a scandalous novel, now forgotten, written in French in 1931. This edition of the book, by Roee Rosen, also contains Frank's biography as well as extensive commentary on the historical and cultural contexts of the novel.
Two Women and a Man // 2005
The cinematic portrait Two Women and a Man (2005), directed by the artist and writer who played a major role in Frank's recent revival from obscurity, Roee Rosen.
////////////////////////////////////////////////////////////////////////////////////////////////////////////////////////////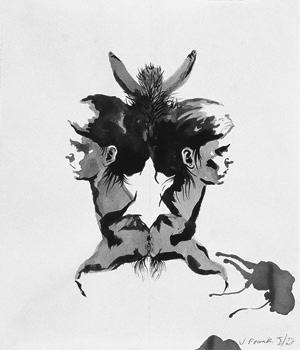 Justine Frank, from The Stained Portfolio (51), 1927–1928. Courtesy: Rosenfeld Gallery, Tel Aviv
With "Justine Frank", the artist constructs a Belgian-Jewish, lesbian artist of the first half of the 20th century. Her fictive life and her entire oeuvre of painting (created by Rosen) stand for an outsider position that was doomed to failure between the Holocaust and Zionism. Since 1998, Rosen has devoted his time to the work of Justine Frank, a fictitious artist who is the subject of his first novel, Sweet Sweat. Justine Frank`s work has been exhibited in Italy, Spain and the U.S.A. Roee Rosen's paintings, films, and writings have become known for their historical and theological consciousness, novelistic imagination, and psychological ambition. His work addresses the representation of history, the political economy of memory, and the politics of identity, often exploring the tension between trauma, horror, humor, and truth.
////////////////////////////////////////////////////////////////////////////////////////////////////////////////////////////
"What are you doing after the orgy?" Jean Baudrillard once perversely asked. I would answer: "Just read Roee Rosen." Rosen came after the orgy, and he knows it. With Sweet Sweat, he is bringing in for a last call all the erotic avant-gardes of the West. But he can only do it with a vengeance – by writing himself into the picture. Erudite, baroque, dazzling, maniacal, and all-encompassing in his approach, Rosen keeps erasing the fine line that separates fiction and truth, imagination and reality, just as Sade and Lautréamont have done before him. But he is also keenly aware that this division doesn't exist anymore and that all one can do is hallucinate over its existence. What makes his summa erotica erotic is that for him, as for Georges Bataille, pornography is philosophy.
Dr. Cross, A Dialogue // 2004
First performed: February, 1994, The West End Gate, New York. Video Version: 15 Minutes.
////////////////////////////////////////////////////////////////////////////////////////////////////////////////////////////
The Confessions of Roee Rosen // 2008
video, 57 minutes
Lucy // 2000
Lucy, translated from English by the author (Tel Aviv, Shadorian Press, 2000); original Xerox edition in English, 20 copies, 1992.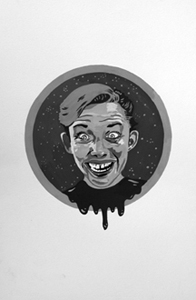 Hilarious // 2009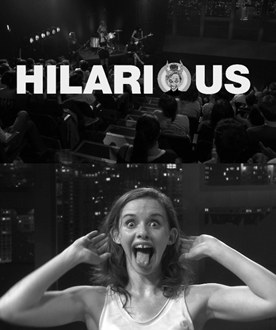 Hilarious // 2009
Hilarious // 2009
Hilarious continues and expands several themes in Rosen's former work. Practically each and every one of his videos engages and perverts television genres (an art documentary, a talk show, a children program), or sub-genres that have more to do the film as commodity (the Confessions cycle included a trailer, a Bonus track and a gag-reel, the generic special additions in DVD packaging, each of which became an autonomous work). Hilarious continues this sequence which will eventually lead to a virtual "cable TV from hell," concocted from the different works. The doubling of speech and self negation are also pertinent: Rosen's confessions were delivered by "surrogates:" three illegal female foreign workers, who recited the text in Hebrew without understanding it. The entry point to the confession was thus its own failure, similarly to the standup monologue in Hilarious. Furthermore, Rosen's desire to assume a female role does not settle for the habitual single alter-ego; rather, his work offers a grotesque, ever-growing community of women (from female martyrs to Hitler's mistress, Eva Braun, from Justine Frank and her host of secondary female characters, to the illegal foreign workers, who were joined, in Confessions, by an ensemble of nine women musicians). Hilarious will further expand this fake female community, and its multilayered parody on notions of identity.
Roee Rosen
* 1963 in Rehovot, Israel; lives and works in Israel
Roee Rosen is an Israeli-American artist and writer, living and working in Israel. Rosen received his BFA from the School of Visual Arts and his MFA from Hunter College, both in New York. He teaches art and art history at Bezalel Academy of Art, Jerusalem, among other places. He was a contributing editor of Ha'Midrasha Journal of Art [Hebrew]. Among his other activities, Rosen was also the co-curator of two political exhibitions shown simultaneously in Tel Aviv and in Um-El-Fachem: The Thirty Third Year: Artists Against the 'Strong Arm' Policy (2000), and The Thirty Fifth Years: Artists for Co-Existence (2002). Alongside theoretical writings, Rosen published four books. His latest work of fiction, Ziona™, is the story of an Israeli, dysfunctional, super heroine.
Rosen's painting and text installation, Live and Die as Eva Braun (1995-1997), stirred a scandal when first exhibited at the Israel Museum, when both members of the right-wing religious MAFDAL party and secular conservatives demanded its removal. Eva Braun was later featured as part of the exhibition Mirroring Evil, Nazi Imagery, Recent Art at the Jewish Museum, New York, 2001, and Wonderyears in Berlin, 2003. Linda Nochlin wrote in Artforum that "…The experience of Live and Die, both textual and visual, is unforgettable, like nothing else."
Rosen dedicated five years (1998-2002) to an interdisciplinary project centered on his fictive feminine persona, the Jewish-Belgian Surrealist painter and pornographer Justine Frank. The project culminated in both Frank's retrospective (at the Herzliya Museum, 2003), featuring over a hundred works, and in a book, Justine Frank, Sweet Sweat (Babel Publishers, 2001), which consists of three parts: Frank's biography, the pornographic Surrealist novel she supposedly authored, and an expansive theoretical text. Frank's paintings have since been exhibited worldwide.
In 2005, Rosen added a last, cinematic part to the Justine Frank project, a short film entitled Two Women and a Man, where he appears in drag as a Frank scholar, and goes on not only to talk about Frank, but also to attack himself, Roee Rosen. The film won a special mention in the prestigious Oberhausen International short film festival, as well as the GECKO award in Cinema Texas, and was shown worldwide.
The English translation of Justine Frank, Sweet Sweat was published in 2009 (Sternberg Press), concurrently with the opening of Frank's retrospective in Extra-City, Antwerp (her supposed native town).
One of Rosen's latest creations is the film project, The Confessions of Roee Rosen (2008), consisting of three short films, and an hour long feature. In this movie, Rosen's "confessions" are delivered in Hebrew by female effigies who do not speak or understand Hebrew – three illegal foreign workers residing in Israel (a fit made possible by a transliteration of the text to Latin Letters read from a teleprompter). The monologues are interlaces by musical interludes performed by an all-women-ensemble. Following the commercial logic of DVD packaging, the shorter works are "special additions:" a gag reel, a bonus track by the ensemble, and a trailer, wherein the artist's son delivers a text in English without understanding it. Confessions premiered at the FIDMarseille festival, where it won a special mention, and was later shown at Manifesta 7. A bilingual catalogue containing the work's text accompanied the exhibition of the entire project in CCA, Tel Aviv, 2009.